Ichinoseki Linear Collider Newsletter, "ILC News"
"Opening up a new stage in world science Bring the International Linear Collider to Tohoku – Regional initiatives and activities –"
ILC badges
Ichinoseki designed badges to further momentum in bringing the ILC to the Kitakami Highlands. The badges measure 1.5 x 3 cm and have "ILC," "Iwate" and "Ichinoseki" written on them. The three "I"s are lined up diagonally, with "ILC" and the "I" letters in green, symbolizing our hope to host world leading research here in this land rich in nature. The red circle in the background represents the Japanese national flag, with the hope that this ILC project will become a national project.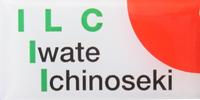 Badges are free and are available at the following locations: the ILC Promotion Division at Ichinoseki City Office; regional branches of the City Office; and the head office and branch offices of the Ichinoseki Chamber of Commerce and Industry.
Adobe Reader is necessary to view these PDF files. If it is not installed on your computer, you can download it here.