Notices / お知らせ
Notices / お知らせ
Notices of upcoming events and other notices will be posted here, so please check in from time to time.
February Events
●Wanko Mochi Tournament
Date and time: Sunday, February 5, 9.45am – 1pm
Venue: Second floor of the Nanohana Plaza in central Ichinoseki
"Mochi." A pounded, sticky rice covered with various toppings and which boasts a long tradition in Ichinoseki. While it is a tasty treat, it's probably not the easiest thing to eat of all foods. So come watch teams and individuals down as many mochi as they can in five minutes! The individual record to date is 74 pieces of mochi, and the team record (two people) is 122 pieces.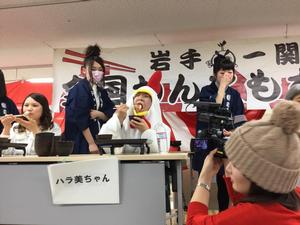 ---
●Mizukake Festival
Date: Saturday, February 11
Venue: Ohara in the town of Daito, in the northeast of Ichinoseki City
Scantily clad men run down a street in near zero temperatures as onlookers throw water at them! The race down the street is the main event at the festival which began over 350 years ago to pray for and raise awareness of fire safety, following a fire which destroyed more than half of Tokyo (then known as Edo) in 1657. The festival today continues the message of fire safety but people also pray for sound health, for recovery following the Great East Japan Earthquake, and so on.
The race at 3pm is the main event. Other highlights beforehand include "shishiodori" deer dances, and firefighters climbing bamboo ladders - showing off strength and balance at the top.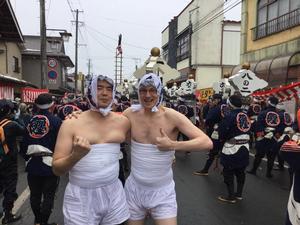 ---
●Senmaya Hina Doll Festival
Date: Saturday, February 11 – Friday, March 3
Main venue: Senmaya Sake no Kura (200 yen entry fee)
The Hina Doll Festival or "hinamatsuri" is an occasion to pray for young girls' growth and happiness which culminates each year on March 3. Many families with girls display dolls which depict the imperial court; a set includes the Emperor, the Empress, court ladies, musicians, ministers and servants.
The vast and beautiful sets of dolls and decorations on display at "Senmaya Sake no Kura" are a sight not to be missed. On Saturday, February 18, there are also performances of the thirteen-stringed "koto" by Senmaya High School girls (at 11.30am and 1pm), and "matcha" green tea will be whisked up and served.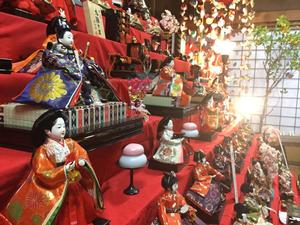 ---
●Ichinoseki Nihonshu Fair
Date and time: Saturday, February 18, 6-8pm
Venue: Hotel Sun Route Ichinoseki (one minute from Ichinoseki station)
The Japanese sake or "nihonshu" fair this time will feature a range of delicious choices from the islands of Shikoku and Kyushu in southern Japan.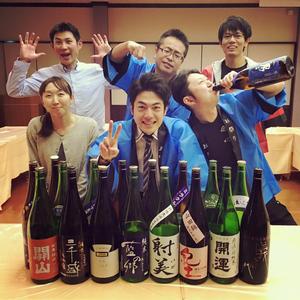 ---
●Iwate Kura Beer festival
Date and time: Saturday, February 25 (11am – 4pm) and Sunday, February 26 (11am – 3pm)
Venue: Sekinoichi (about ten minutes on foot from Ichinoseki station)
A two-day beer festival at local beer and sake brewery, Sekinochi, who produce the tasty "Iwate Kura Beer." Food also on sale.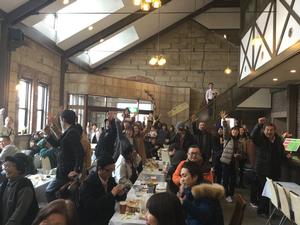 ---
November Event
●Mochi Summit
Date and time: November 5-6
The fifth Mochi Summit in Ichinoseki will be held on Sat, November 5 and Sunday, November 6 in the Ichinoseki Cultural Center car park (next to the Ichinoseki City Library; about five minutes walk from the west exit of Ichinoseki station).
26 mochi dishes will be on sale. Eleven of the dishes are from Ichinoseki City; six from other cities and towns in Iwate Prefecture; and the other nine coming from Yamanashi, Yamagata, Aomori, Miyagi, Ishikawa, Shizuoka and Tokyo prefectures.
The Mochi Summit runs from 10am – 3pm on both days. Voting for your favorite mochi closes at 2pm on Sunday.
The event brochure (in Japanese) can be seen here:
Photos and information (in Japanese) about each of the dishes can be seen here:


登録日: 2016年6月3日 / 更新日: 2017年1月27日