Sightseeing / 観光
Sightseeing/観光
There are a lot of beautiful places and interesting events in Ichinoseki.
Please take a look at the below brochures and short movies.
Brochures
●General tourism brochure
This is a brochure packed with many of the attractions in Ichinoseki City and the neighboring world-heritage town of Hiraizumi.

●Honedera Village Estate brochure
This brochure introduces the Honedera Village Estate - a special place with a landscape typical of medieval times and a historical connection to world-heritage Chusonji Temple in Hiraizumi.

●Ichinoseki City Museum brochure
This brochure is an introduction to the city museum located near Gembi Gorge, about fifteen minutes west of central Ichinoseki.
Movies
This 15-minute video introduces Geibi Gorge and Gembi Gorge; Mount Kurikoma and Mount Murone; hot springs; the safari park; summer festivals and fireworks; the craft beer festival; the hot air balloon festival; and many more attractions in Ichinoseki City, as well as the neighboring Hiraizumi.

Blog
This website is run by the Internationalization Coordinator for Ichinoseki City.
It includes information on tourism, lifestyle, events, food and a whole lot more!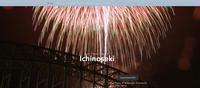 登録日: 2016年6月9日 / 更新日: 2019年8月8日